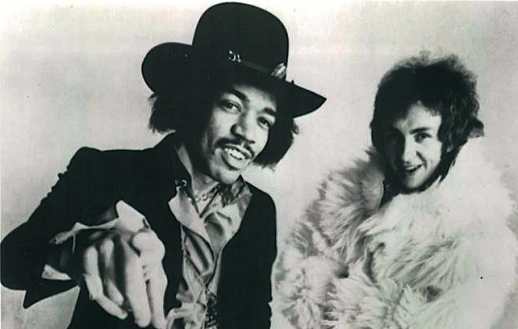 Many years ago a friend of mine who, at the time, had been the bassist in a rock group I was a member of, had pointed out to me that "Jimi Hendrix is probably the most prolific artist to continue releasing music after his physical death." Indeed, it seems that there is no end to the guitar wizard's endless slew of blues and rock fusion, as yet another collection of unreleased songs has been produced by the Hendrix estate; thus highlighting the innovator's ever-changing musical stylings, yet again, from well beyond the limits of the early grave that caught up with him at age 27.
People, Hell & Angels is the title of a new collection of unfinished recordings by the late guitar virtuoso, which in addition to being a collection of songs grouped under an otherworldly album title, also features references to other strange and unusual subject matter. For instance, in the albums second track, "Somewhere," Hendrix muses between smoky licks colored by the transient tone of his Vox wah pedal a few lines about unexplained aerial phenomena:
"Remember the clouds, I can imagine UFOs jumpin' themselves, laughin' they said…"
"Crash Landing," the album's eighth offering, features similar spacey themes:
"Walk through the clouds, you should be a rocket, you get me spaced out, played out, look at the sun fade out… and you almost made me leave my faith outside."
Hendrix on Esoteric Themes: Voodoo and Delta Blues
Other titles, such as "Hey Gypsy Boy" and "Mojo Man" borrow from previous dark and troubling themes that have remained prevalent in blues music, particularly styles emanating from the American South; and looking back to the decidedly Delta tune "Hear My Train a Comin'," previously released as a solo performance on twelve-string acoustic guitar many years ago, we now see the tune revitalized as an electric jam even capable of animating Robert Johnson's dusty bones.
And yet, there is an undeniable theme throughout this collection of (unfinished) recordings that betrays a deeper sort of incompleteness. This is not only in the more obvious terms of the individual salvaged recordings, but with regard to the style and presentation, as well. Bernard Perusse of the Montreal Gazette wrote of the collection that, rather than being a collection of finished songs being test-driven, it seems to represent more of an ongoing collaborative effort with other musicians that Hendrix had been working on, searching for the proper band, and of course, the proper material for his next album, in a true perfectionist sense:
"This feels less like an album than 12 random snapshots of a restless innovator in search of the perfect band and the best way to present his latest material. During these sessions, recorded between March 1968 and August 1970, he is mostly working out and discarding ideas for a follow-up to the epochal Electric Ladyland, the third and last studio album released during his lifetime."
Altogether, the Hendrix fan will enjoy the songs, much like previous releases of collected, unfinished material the likes of South Saturn Delta. Listening to these ghostly discourses, one will find that they sound remarkably fresh today, even after more than four decades having passed since they were first committed to tape. And of course, with all the references Hendrix made to UFOs and other esoteric themes, one can only guess what kinds of books folks like Chaz Chandler, former Animals bassist who served as Hendrix's manager, might have been passing along to the budding rock legend, with hopes of fueling his inspiration with the weirdness of culture and our world's mysteries.
by