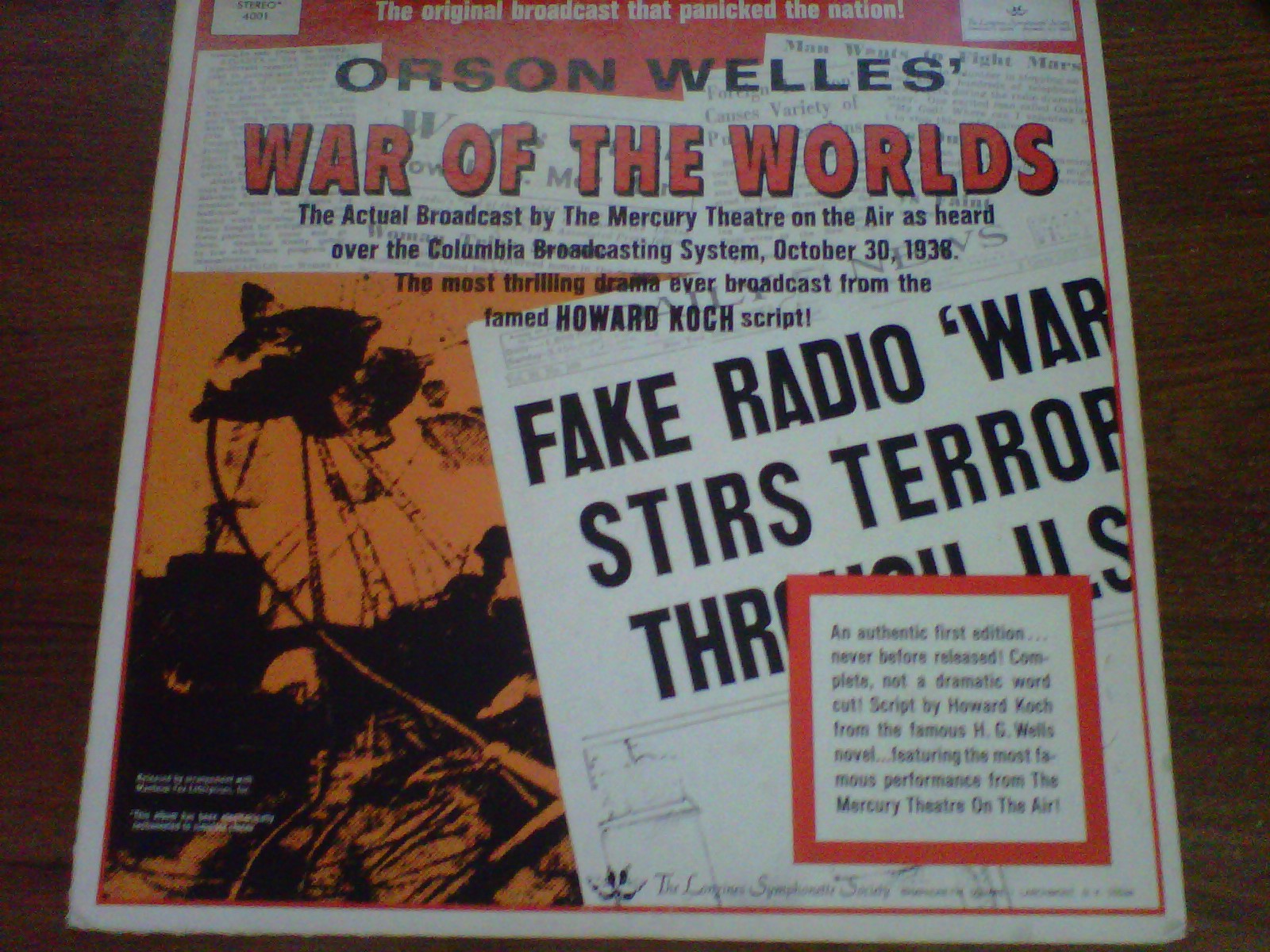 I found this rare little gem in a consignment shop recently, which I thought would make a nice decorative piece for the Gralien Bunker (especially since this is home to the studio we use for the weekly show where we talk about aliens and weirdness). It's a vinyl record commemorating the infamous October 30, 1938 broadcast of War of the Worlds by Orson Welles.
In addition to the aesthetic merit it will provide once I get it in a frame, I love how the cover art depicts actual newspaper clippings showing public reaction in the aftermath of the broadcast. Below are a few gems to help illustrate the sheer panic that was enveloping the nation on that fateful evening.
PITTSBURGH–A man returned home in the midst of the broadcast and found his wife, a bottle of poison in her hand, screaming: "I'd rather die this way than like that."

INDIANAPOLIS–A woman ran into a church screaming: "New York destroyed; it's the end of the world. You might as well go home to die. I just heard it on the radio." Services were dismissed immediately.

BOSTON–One woman declared she could "see the fire" and told the Boston Globe she and many others in her neighborhood "were getting out of here."

BREVARD, N.C.–Five Brevard College students fainted and panic gripped the campus for a half hour with many students fighting for telephones to inform their parents to come and get them.
This last report is interesting to me, specifically, because Brevard College is only about half an hour from our location here at the Bunker. In fact, I travel on business at least once per week in that direction, and pass the location while en-route with some of the affiliate reporters for this very website! However, one of the more shocking reports took place a little further south:

ATLANTA–Listeners throughout the Southeast called newspapers reporting that "a planet struck in New Jersey," with monsters and almost everything, and anywhere from 40 to 7,000 people were killed." Editors said responsible persons, known to them, were among the anxious information seekers.
This one brought an interesting question to mind: could Welles or anyone associated with the broadcast have intentionally "planted" individuals in various parts of the states, hoping they might help spread the word of an attack in New Jersey, aiding publicity for the event? If this were the case, could it explain the "responsible persons, known to (the editors)" who had been filing the reports from halfway across the country?
Finally, we're left with this somewhat heart-warming report of married couples, seeking divorce, who acted compassionately toward one another and their families as a result of the alleged "attack" that was occurring:
RENO–Marion Leslie Thorgaard, here for a divorce from Hilsce Thorgaard, of New York, collapsed, fearing her mother and children in New York had been killed. One man immediately started East in hope of aiding the wife he was here to divorce.
For reasons made obvious in the examples above, Welles' famous broadcast will no doubt remain one of history's most controversial and unique, perhaps most importantly for the startling social commentaries and psychological response-oriented studies it presents. We most certainly have an idea of how the public might respond to an alien invasion… at least in late 1930's America!

by