Podcast: Play in new window | Download
Subscribe: Google Podcasts | Email | RSS | More
Yet another week's worth of the strange and unusual has arrived, all wrapped-up and served to you hot and fresh! It's the Gralien Report Podcast for the week of August 21st, 2011.
Gralien Report Podcast for 21 August 2011 (click here to download)
On this week's edition of the program: author and filmmaker Marie D. Jones joins us during hour three for a discussion about her new book Destiny vs. Choice: The Scientific and Spiritual Evidence Behind Fate and Free Will. Also, we feature an in-depth analysis of the 1993 Robin Hood Hills murders, where three eight-year-olds were found killed in West Memphis, Arkansas. This overview, brought to us courtesy of our very own Matt Oakley, coincides with the release of three men, known today as "The West Memphis Three," who appeared in court Friday morning to submit Alford pleas after having served 18 years in prison. One of the men, Damien Echols, had spent the last ten years in solitary confinement, awaiting the death penalty… and with little evidence to substantiate their involvement in the crime.
One of our Gralien Report Field Correspondents, Tyler Pittman, was on-location in West Memphis for the release of the three defendants, and he joins us by phone to provide his commentary on the historic event. Pittman also supplied us with photos of the occasion (including the image above, showing Damien Echols and Jason Baldwin, center) which we've featured in this post, and was interviewed by Arkansas KARK 4 News, which can be seen at 7:40 into the video available here.
Finally, below we've included a few links to news stories discussed on the show, in addition to a few other goodies we didn't have time to get to on the program:
The Wikipedia entry regarding the West Memphis Three
Silent Triangles, Hovering Diamonds, and Flying Rectangles… oh my!
Also, below are a few more photos from Tyler Pittman's coverage at the Jonesboro, AR Courthouse: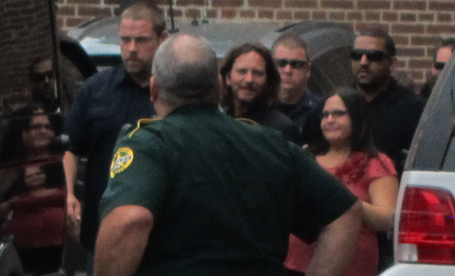 Eddie Vedder, vocalist of Pearl Jam, above, leaving the courthouse following the release of the defendants.

An anxious crowd gathers outside the courthouse, awaiting the release of the WM3.

Police transport vehicles await the defendants outside.
Homemade T-shirts…

A plastic bag containing one of the defendant's belongings.

Tyler Pittman covering the historic release of the West Memphis Three, sporting Gonzo glasses.
by