An eerie photograph taken recently by tourist Christopher Aitchison is being touted as "proof" of a ghost haunting Tantallon Castle, a mid 14th century fortress in East Lothian, Scotland. Aitchison says he didn't tamper with the image, and cannot explain who or what the entity in it may be.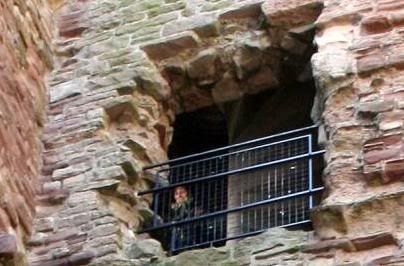 ABOVE: The Aitchison photograph, purported to show an odd, doll-like "ghost" starring down from a castle window.
"I was not aware of anyone, or anything, being present in my picture, only noticing the anomaly when I got home," Aitchison told news sources earlier this week, who inquired about the 2008 photograph. "Staff have verified that there were no sinister dummies in period costume or historical reenactments going on that day at the castle. I did not notice any nice old ladies wearing ruffs walking around the stairs!"


Tantallon's "Curtain Wall"; Photo by Phillip Capper of Wellington, New Zealand
Tantallon was built by William Douglas, 1st Earl of Douglas, in the mid 14th century. Douglas left it to his illegitimate son, later given the title the Earl of Angus, in whose name it remained the property for much of its history. Tantallon would fall victim to several sieges, perhaps most notably by King James IV in 1491, and again by his successor James V in 1528, the latter of which caused extensive damage. Some have suggested, for whatever reason, that the "ghost" in Aitchison's photo might actually depict James V, though other explanations include light reflecting off a wall in the background. According to a recent AOL News poll, 65% of all viewers believe there may be a natural explanation as opposed to being anything ghostly in the photo, whereas only 35% believe the apparition may indeed be something anomalous. What do you think is being depicted in Aitchison's photo?
by