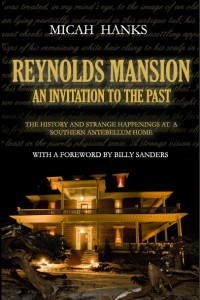 It's almost that time of year, and boy has there been a lot going on over here in the Gralien camp over the last few weeks. We're only one week away from the Paradigm Symposium 2012, which we're bringing to Minneapolis Minnesota along with our partners at Intrepid Magazine. Additionally, the Halloween season is nearly upon us, and hence with all the work going on behind the scenes, we're a bit behind on our podcasting schedule. But nonetheless, we have still managed to procure something a bit special for Gralien Report listeners, and just in time for Krocktober.
Listeners of the program already know about Micah's new book, Reynolds Mansion: An Invitation to the Past, which documents the real life investigation of one of the Southeast's most haunted homes by Micah and other associates familiar to The Gralien Report. Not only does this book deal with the team's own investigation of strange phenomenon in a Southern antebellum home, but we're also making it available to a few folks prior to its release in stores and on Amazon.com.
That's right: you can purchase copies of Micah's new book in advance, simply by clicking here.
We're very excited about this new release, and it's one of two fine books being brought to you by The Gralien Report this year, along with Micah's New Page Books release The UFO Singularity, which will be available in stores in time for the Christmas season. You don't want to miss this exciting story of ghostly hauntings and strange phenomenon… as told from the ever-so-slightly-skeptical viewpoint of everyone's favorite southern radio host and cave-dweller. Get your copy today!
by