My good friend Dean Warsing sent along this recent photograph of Joshua P. Warren and I investigating the fascinating mystery of the Brown Mountain Lights with National Geographic Channel near Lineville Falls, North Carolina: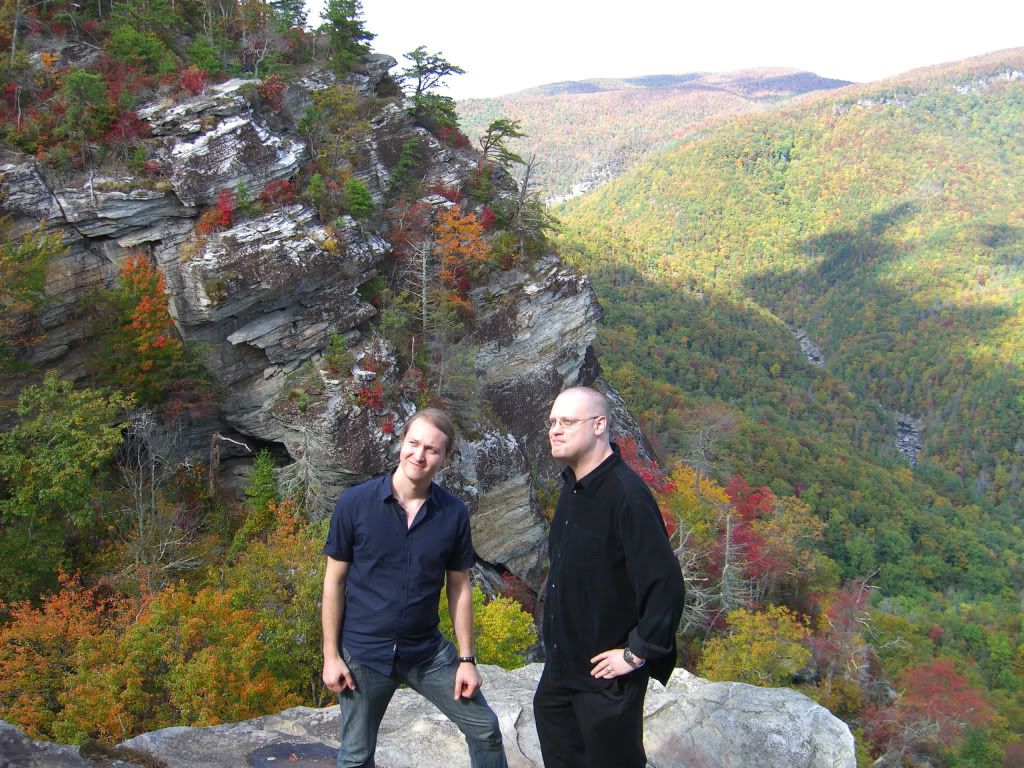 MEN AT WORLD'S EDGE: Joshua (right) and I stand at the edge of a 200-foot cliff adjacent to Wiseman's View in the Lineville Gorge. Though smiling, the fingers of Josh's right hand were actually crossed, as we both prayed a sudden, strong gust of wind wouldn't blow us into a corresponding 200-foot drop to oblivion below.
Fortunately, weather was perfect for the outing, and the majestic Lineville Gorge wilderness was just beginning to ride the crest towards the "peak" color season here in beautiful Western North Carolina while the film crew, along with members from L.E.M.U.R., worked at solving the ever-intriguing mystery of the Brown Mountain Lights. These strange manifestations comprise strange "ghost lights" seen throughout the region, particularly within the vicinity of Brown Mountain and the nearby Table Rock. With sightings dating back as far as the year 1200 according to Indian legends, it is one of the nation's most enduring legends, of both historical and (perhaps) scientific merit. The L.E.M.U.R. team (of which I am an investigator) has spent more than a decade studying the phenomenon. For more information on Joshua P. Warren's theories and the research we have conducted together over the years, visit L.E.M.U.R.'s Brown Mountain Lights website.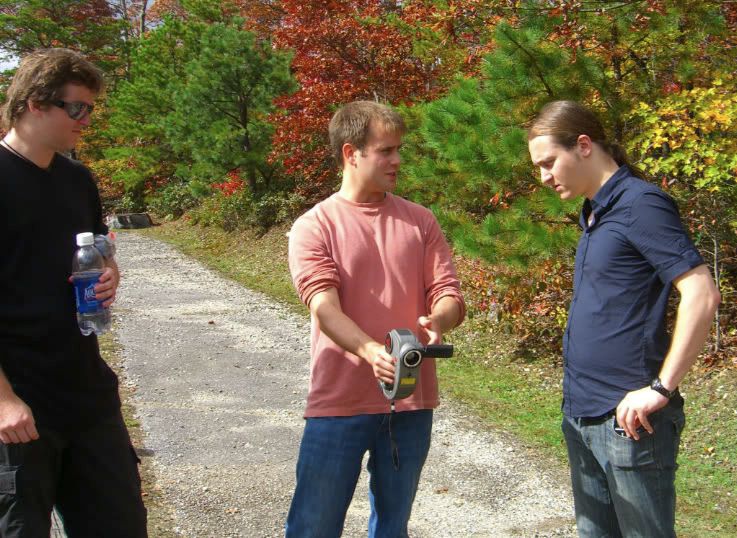 ABOVE: Christopher McCollum (far left) and I (far right) are shown an advanced thermal imaging camera by Ben, one of the producers with the National Geographic crew. L.E.M.U.R. hoped to use this to help determine if the Brown Mountain Lights produced significant heat sources when manifesting (photos by Dean Warsing).
by