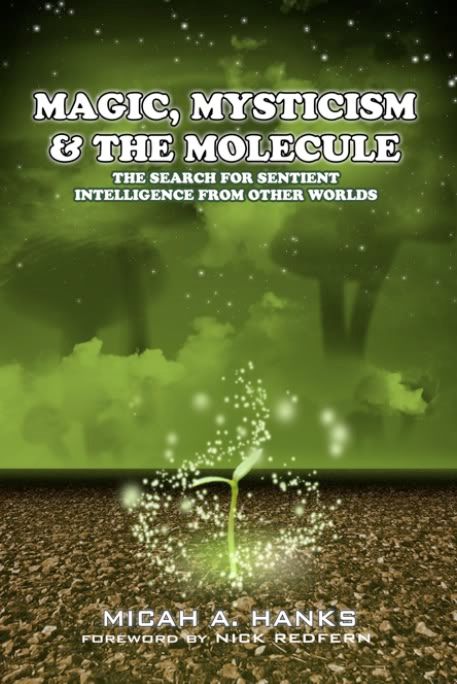 How often have you stepped outside on a clear night, looked up at the evening sky, and as you stared at the infinite expanses of space and the cosmos, felt a yearning in your heart for something more?
Regardless of where you've been, where you are, or where you're going in life, you've probably questioned reality around you, and wondered what else might exist out there. Modern statistics tell us that nine out of every ten or so people not only profess a belief in the paranormal; they also claim to have had experiences of their own. Whether they've seen a ghost in an old house, a strange light or other object drifting through the sky, or maybe just had a "feeling" that ended up having a profound, if not life-saving effect later on, we're met daily with examples of unseen forces that play outside the realms of human perception.
If you have ever wondered "what else" exists around you, witnessed something strange and inexplicable, or felt as though someone–or perhaps something–has extended an unseen helping hand from another realm, look no further. But be warned: the path to discovery hasn't come to an end… in fact, it has only just begun.
I am proud (and very excited) to announce that my new book, Magic, Mysticism and the Molecule: The Search for Sentient Intelligence from Other Worlds is literally only days away from being released. That's why I wanted to take this opportunity to tell you, the readers of The Gralien Report, about this book before anyone else gets to hear about it.
It has been a long road to discovery in completing this book, which I feel best represents all the unique points and parallels that bridge psychology, the paranormal, and historical mystical practices dating back to the dawn of humanity. I know that's quite a statement, but thanks to the stories, insights, and most of all, support from so many fine folks like you, I simply couldn't think of this book as anything less. It is, in essence, the culmination of my own best evaluation of what my good friend, Nick Redfern, calls "the twilight world of Forteana." Speaking of Nick Redfern, here's an excerpt of what he had to say in the book's foreword, which he was kind enough to write for me:
Hanks is, in my view, firmly on the right track. A new, fresh approach to the world of Forteana is sorely needed if we are to actually get some answers, instead of merely collecting more and more reports. Micah Hanks is one of those individuals at the absolute forefront of skillfully negotiating the dark waters that will ultimately provide us with the answers that we seek. Enjoy his book, digest its contents carefully, and above all else: learn. And before I forget: throw out your bulging, aged and yellowing files and reports. They are now as extinct and redundant as a T-Rex.
-NICK REDFERN, author of Contactees: A History of Alien-Human Interaction
Within the pages of Magic, Mysticism and the Molecule, you'll be given a perspective of some of history's strangest mysteries in ways you've never before seen. For instance:
What role did the infamous magician Aleister Crowley play in the history of modern Ufology? Furthermore, did he somehow manage to summon an alien "gray" during one of his magical rituals?
Out of 80,000 plants that were available, how did native tribes in the Amazon jungles discover the right mix of ingredients that allow DMT, the psychoactive ingredient in their ritual ayahuasca brew, to become active; a feat anthropologist Jeremy Narby says stood a one in six-million chance of discovery?
Do Tibetan mystics possess the strange ability to create "tulpas," literal thought-forms that manifest physically from their thoughts alone? Even stranger, could a sixteenth century Jewish mystic have done the same thing in creating a "golem" in medieval Prague?
Did famed scholar of the macabre, H.P. Lovecraft, somehow predict that the human pineal gland could act as a gateway between unseen worlds? If so, did the research of famous inventor Nikola Tesla not only prove Lovecraft's own predictions, but illustrate ways we can literally contact creatures From Beyond?
Do mirrors act as portals to other realms? According to Dr. Raymond Moody, the spirits of deceased loved ones can actually communicate through reflective surfaces… but what else might be capable of coming through?
How are sleep paralysis, UFO abductions, out of body travel, psychedelic visions and near death experiences all interconnected? Could they all be much more similar than we've previously imagined?
If you have ever wondered about these enigmatic mysteries, Magic, Mysticism and the Molecule is the practical handbook to understanding the unseen realms of consciousness and beyond. You too can learn the secrets that ancient magicians, modern mystics, entheogenic pioneers, and the technological innovators of tomorrow have used, and will continue to use, in reaching the inner realms of both human consciousness, as well as the outlying cosmos.
There is much, much more to come, and I can't wait to bring you along on a fascinating journey of insight into our world's greatest mysteries. Please visit The Gralien Report often during the next few weeks for more information about how you can purchase my new book, Magic, Mysticism and the Molecule: The Search for Sentient Intelligence from Other Worlds.
by