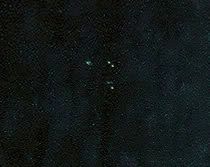 Late last year, a series of encounters taking place in Texas began to spur interest in a "new wave" of possible UFO activity, constituting the most consistent rash of similar reports since the events that transpired in the Stephenville area two years ago. Now, the Texas MUFON group has released information pertaining to a more recent report that points to dubious activity which, almost without a doubt, renders previous reports from the area to mere fiction.
Two days ago, Roger Marsh bragged on the work of Fletcher Gray, a Texas MUFON Field Investigator who uncovered the evidence pertaining to an alleged January 9th encounter, at his UFO Examiner page. Below is an excerpt that details a bit of Gray's detective work:
Behind the scenes–what you as the public cannot see–are the personal details witnesses must give up. These are details that remain private for the trained and certified investigator's eyes only so that they can conduct research into the case. In this instance, the first clue was a Yahoo email address that was created on the same day that the report was made.

The phone number for the report turned out to be a local business and there was no match between the name behind the email address and anyone working with or associated with that business.

A deputy for the Ward County Sheriff's office was contacted who said that no reports came to his office on this case nor were there any UFO reports recently for the greater Grandfalls area. And the "old power plant" on Fifth Street – does not exist.
Thus, as Marsh writes of the incident, "Case solved." He does, however, give the author of the bogus report "at least a "B" on the narrative," though he warns that, "All kidding aside, please take your fiction somewhere that counts."
As expressed on this blog in the past, I don't know that I would be so generous with my grading scale. Subsequent to the initial two Texas area sightings, I looked at a few of the grammatical quirks pertaining to the wording used in both, which, in my opinion, would have called for a few points being deducted. At least one of them might have received a "C-" had I been the instructor. 😉
But all that aside, of greater importance is the fact that in my original article, I had also pointed out the several obvious similarities the two reports contained. Though the writing style also provided at least some credibility, I advocate suspending judgment in such circumstances (in this case, until MUFON investigators the likes of Fletcher Gray could respond), although I had noted that these similarities "may call some skepticism into question." Indeed, it seems that most parties agree, in retrospect, that the writing was of some merit… but it simply wasn't enough to conceal the bogus underlying claims.
by