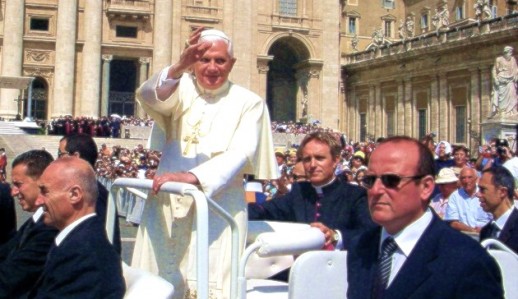 While the last week has indeed offered a wide array of interesting newsworthy topics, the big news this morning may indeed end up being one of the more shocking stories in 2013 to-date: Pope Benedict XVI is resigning from his position, making him the first to do so in close to six centuries.
An official statement the Vatican released quoted the Pope saying:
"In today's world, subject to so many rapid changes and shaken by questions of deep relevance for the life of faith, in order to govern the bark of Saint Peter and proclaim the Gospel, both strength of mind and body are necessary, strength which in the last few months, has deteriorated in me to the extent that I have had to recognise my incapacity to adequately fulfill the ministry entrusted to me. For this reason, and well aware of the seriousness of this act, with full freedom I declare that I renounce the ministry of Bishop of Rome, Successor of Saint Peter, entrusted to me by the Cardinals on 19 April 2005, in such a way, that as from 28 February 2013, at 20:00 hours, the See of Rome, the See of Saint Peter, will be vacant and a Conclave to elect the new Supreme Pontiff will have to be convoked by those whose competence it is."
With that, we'll move on to the other news headlines that caught our ever-watchful eye. Thanks again to Tyler Pittman for keeping us abreast of the latest happenings:
Mysterious illuminated object appears without warning above the world's largest oil refinery in Jamnagar, Gujarat
Are these Chilean UFOs, or "helicopters practicing nighttime drills"?
Earth-like planets abound in red dwarf systems
Singer Katy Perry was allegedly "terrified" by a ghost in Hollywood
Weird Underwater Waves Spotted from Space
… And speaking of waves, this 1964 encounter with a "giant turtle" at Loch Ness is rippling the waters of the blogsphere
Can the UK cope with solar superstorm?
Drones were new science… back in 1916!
US media yet again conceals newsworthy government secrets
Presidents Become Monsters in Action Figure Line
A Suspect Should Never Waive His Rights And Tell The Cops, "I Was Trying To Make The Horse Have A Baby."
Wait, did Curiosity just spot a hunk of metal on Mars?
Man hunt for ex-soldier who shot police chief's daughter and killed policeman
Pope Benedict XVI image by Marek Ko?niowski via Wikimedia Commons.
by