Podcast: Play in new window | Download
Subscribe: Google Podcasts | Email | RSS | More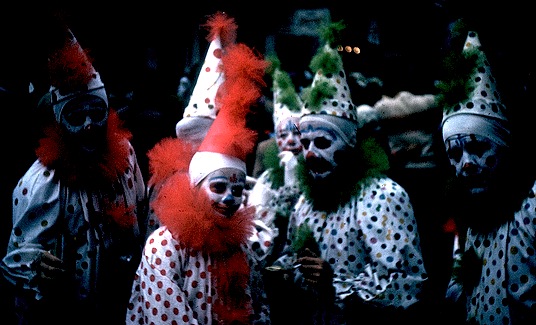 Time travel, UFOs, and phantom clowns… have you ever heard of urban legends that involve ghostly clowns living in people's attics? Also, is there a strange connection between Mothman and Shadow People? Follow the link below to hear what wonders await you on this week's edition of The Gralien Report Podcast…
The Gralien Report Podcast for May 1st, 2012 (Click Here to Launch Player)
Also, joining us during hour two will be Professor Earl Lee, discussing his new book "From the Bodies of the Gods: Psychoactive Plants and the Cults of the Dead." Did you know that many of our rituals and traditions in religious practices today have influenced by "Cults of the Dead" from centuries past? What a bizarre discussion… and you can learn more about it by visiting the website of Professor Lee's publishers, Inner Traditions Books.
And now, on to a few show notes (and other interesting news stories) for those whose ocular organs are experiencing unusual wanderlust…
Religious people are less motivated by compassion than non-believers
Loren Coleman on a creepy "Phantom Clown" incident in Idaho
Quantum computing outdoes universe-sized computers by multiple orders of magnitude
What do H.P. Lovecraft and Arthur C. Clark's 2001 have to do with the upcoming film "Prometheus"?
Are UFOs humans visiting from the future?
And finally, a few points to address: First of all, many of our listeners have mentioned that a three-hour podcast can be a bit tough to get through while people are on the go! It's true that, while the show broadcasts live on Tuesday evenings at 8 PM ET, the larger listenership downloads The Gralien Report and carries it with them and listens while commuting to work, or while at the desk, or even while relaxing at home after work. Still, the three-hour format seems a bit too long, and after reviewing listener feedback, we've decided to scale the program back to a two hour live show/podcast, with the intention of adding a one hour "feature" each week that will detail special investigations, streaming video, and a host of other unique features. We also plan to soon provide newsletters, subscription services, and a host of other unique material here at the site that those who follow The Gralien Report can access and enjoy. And last but not least, did you know Micah is writing for Australia's New Dawn Magazine a lot these days? If you haven't checked them out, you may want to have a look:
New Dawn Magazine Online: The World's Most Unusual Magazine
Image by Bruce Szalwinski via Flickr.
by