Podcast: Play in new window | Download
Subscribe: Google Podcasts | Email | RSS | More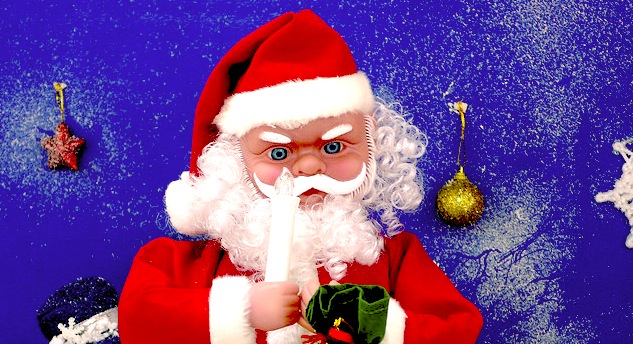 It's Christmas in the Bunker! This week, the Gralien gang celebrates the Season from deep within the dark heart of the Moho… but there are still many pressing questions on the table: for one, is Santa Claus really everyone's favorite rotund messenger of gift-giving, or is he in fact an alien? If not an extraterrestrial life form, what else could he be? The startling results of our inquiry could have you reeling for weeks, if not even further into this most cataclysmic of doomsday years to come.
The Gralien Report Podcast for December 21, 2011 (Click Here to Launch Player)
We also get into a holiday discussion of Fortean Folk Devils, as well as a number of other oddities occurring in recent news from around the world. For instance, what was the strange, cobweb-like growth found dispersed among nuclear waste containers earlier this week at the Savannah River Site in South Carolina? Also, was Mothman really a winged monstrosity, or was it something else altogether? All this and more are discussed on this week's edition of the show… and for those lovers of prose out there, here's a little holiday link-love to go along with this week's main dish…
Christopher Hitchens, outspoken atheist and political writer, may have entered the afterlife
…And a few notes from Micah on freedom, Forteana, the afterlife, and how Hitch played into all this
Creeping Death: White cobwebs growing on nuclear waste containers
What was with the stone face you dug up in the back yard?
Strange tales of people who are driven to take up the "Claus"
Was that a UFO driving down US-77 in Kansas?
CREEPY: Synchronized mass-mourning for Kim Jong-Il in North Korea
Larry Bryant's appeal for the Dragonfly Drones
…And his subsequent FOIA request
Are there Appalachian Groundsloths Roaming the Southeast?
…And speaking of holdovers from the ancient past, what about bioluminescent pterosaurs?
Image by Augapfel via Flickr
by