Podcast: Play in new window | Download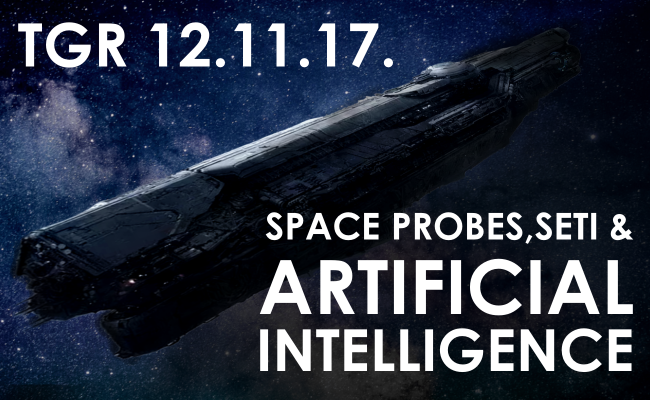 This week on The Gralien Report, as we return from our recent sojourn from the frost-ridden Appalachians, Team Gralien is excited to be discussing new developments in the search for extraterrestrial life. For instance, the bizarre, needle-shaped "Oumuamua" object that recently entered our Solar System has caught the attention of SETI researchers, for a number of features that could indicate it's more than just a hunk of space debris. Elsewhere, NASA is being tight-lipped about a new upcoming announcement involving the Kepler telescope; but the biggest mystery has to do with why Google is involved, and what it could have to do with Artificial Intelligence.
Speaking of Artificial Intelligence, we also have conspiracy theory radio host Alex Jones taking time to interview Amazon's "Alexa," the virtual assistant with the online retailer's popular Echo devices. However, is the idea that Amazon and its CEO, Jeff Bezos, are connected with the CIA an entirely ridiculous idea? In fact, Amazon's associations go much deeper than just the CIA, and extend well into the media also… but is this really any cause for alarm, or cries of "conspiracy"? Absolutely not… although it certainly may explain certain media biases we see today.
Sign up today and get access to the entire back catalogue of 
Gralien Enigmas
, in addition to weekly installments of the "additional edition", the 
Gralien X Podcast
. You can also
"Like" us on Facebook
, or sign up to follow us on Twitter:
@MicahHanks
@GralienReverend
@Gralien Report






by