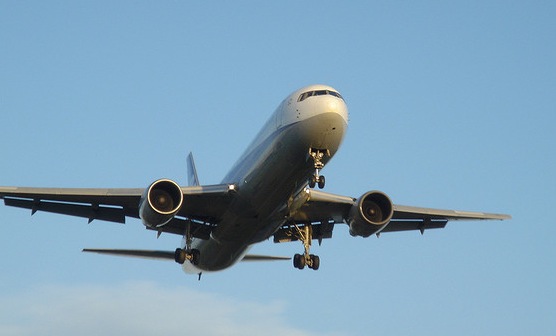 We've all heard of altitude sickness before, and even of the sort of light-headed sensations that can sometimes occur while ascending to great heights while traveling by air. Maybe you've even seen that classic episode of The Twilight Zone where William Shatner spies a terrible gremlin on the wing of the aircraft he is flying on, which threatens to take down the flight with its apparent appetite for steel. But a recent series of very real incidents involving what officials call an "outbreak of insanity" on various airlines has prompted baffling statements from pilots and FAA officials.
According to a report appearing in USA Today, the most recent of a series of incidents where passengers have behaved erratically–and even tried to open emergency doors in mid-flight–occurred Tuesday night. A Delta Air Lines Airbus A320 flight en route toward Boston was interrupted when a disgruntled 43-year-old passenger, Robert Hersey, apparently attempted to open an emergency door on the plane. Witnesses to this apparent instance of "air insanity" noted that Hersey had been seen drinking, however, and "appeared upset when the flight was late." He was arrested by Massachusetts police after an emergency landing took place.
Could this erratic behavior have been instigated by some strange forces or other weird influences? Perhaps Hersey was merely distraught for personal reasons, running late, or otherwise troubled or emotionally disturbed. But there are far more concerning incidents elsewhere involving this supposed "air insanity" that may warrant concern. Chief among these is the recent arrest of Rageh Al-Murisi, a 28-year-old man who, according to Assistant U.S. Attorney Elise Becker, was said to leave his seat and shout "God is great" in Arabic before approaching and attempting to open the cockpit door. USA Today reported that:
"Martelle says American flight attendants didn't understand what Al-Murisi was saying and initially thought he was mistaking the cockpit door for the bathroom door. When they pointed him to the bathroom door, he again tried to open the cockpit door, Martelle says."
This incident alone is enough to incite serious concern, especially in the days following news of al Qaeda leader Osama bin Laden's death. However, a third incident involving a Yemeni native also led to an arrest on Sunday, where the individual was apprehended after allegedly "screaming and pounding on a cockpit door of a Boeing 737-800 jet 40 minutes before it was scheduled to land." The American Airlines flight was headed toward San Francisco, though no other details were given of the incident.
These reports may not all be interlinked, and to refer to them collectively as an "outbreak of insanity" is not only ridiculous, but somewhat misleading. The serious concerns surrounding the latter of the two–specifically the arrest of Al-Murisi–seems to suggest something far more dangerous, however. Living in a post-9-11 America, how exactly are we supposed to interpret this sort of behavior? Madness indeed.
Yet the incidents of alleged "madness" don't end there. Reuters reported Monday of yet another incident of disruption aboard an airline, this time involving Continental Airline flight 546 out of Houston the previous day, while heading for Chicago. "After the flight took off," the report reads, Reynel C. Alcaide (not "al Qaeda", though the similarity here is synchronistic in an unsettling way) "rushed up the aisle toward the front of the aircraft where a flight attendant tried to stop him." He was subsequently pinned to the ground by a flight attendant and two passengers, and arrested after a subsequent emergency landing.
Are there strange Fortean forces at play here, subversively influencing air passengers and causing them to suddenly feel compelled to open emergency doors, as well as inciting attempts to storm the cockpits of airborne vehicles? Could these scattered incidents represent what officials are calling "madness" after all, or is there something more sinister at play here?
UPDATE: Researcher Mike Clelland took time to send along some of his own insights about causes behind "airline madness". Citing research carried out by NASA and others, Mike points out the following:
"A study… of polar flights during a solar storm in 2003 showed that passengers received about 12 percent of the annual radiation limit recommended by the International Committee on Radiological Protection. The exposures were greater than on typical flights at lower latitudes, and confirmed concerns about commercial flights using polar routes."
Could this indeed have something to do with at least some reports of "air madness"?
Image by Yuichi Kosio via Flickr.
by