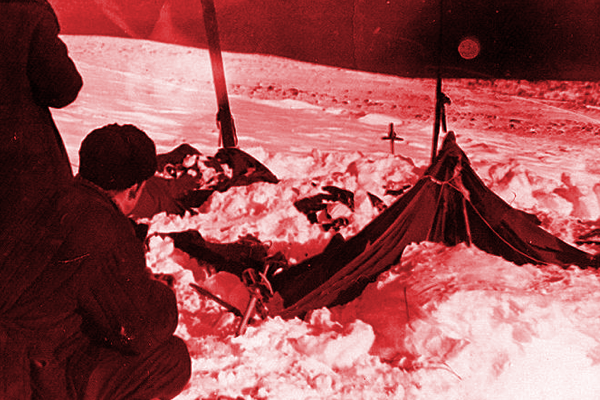 The Dyatlov Pass incident, a mysterious case that involved nine college students perishing on a remote Russian mountainside in 1959, has made headlines recently, following the airing of Discovery's latest example of prime-time programming that appears to blend fact with liberal amounts of fantasy.
In a televised special that aired Sunday night with the sensational title, "Russian Yeti: The Killer Lives," researchers attempted to use a grainy photograph of a purported "wild man" to substantiate the idea that the nine hikers who perished at the location now remembered as Dyatlov Pass had been stalked by a reclusive Bigfoot-like creature.
Though the program featured interviews with experts of some repute, such as Igor Burtsev and Dr. Jeffery Meldrum, from what I've seen of this "Russian Yeti" mess, it was merely a sensationalized romp attempting to make a great big, terrifying mountain of nonsense out of what was already a heartbreaking — and deadly — mole's hill.
A number of people in the blogsphere are comparing the Russian Yeti program to previous Discovery programming which has offered semi-believable documentary-style narratives surrounding fictional creatures and scenarios (specifically, the giant prehistoric shark Megalodon and legends of mermaids).
Todd Bryan is a Gralien Report reader who shared similar thoughts this morning. Bryan holds an MS in Psychology, and as he relates below, there are indeed problems that come with sensationalizing a horrific, unsolved incident the likes of which took place at Dyatlov Pass in 1959:
Just watched the new Discovery channel special linking Yeti evidence to the mysterious death of the Dyatlov hikers. Its more crap along the lines of Mermaid: The Body Found.

I've been very interested in the Dyatlov expedition since I was in my teens, and because of this fictional "documentary" I'm even more ashamed of Discovery than I was over the mermaid thing. This is capitalizing on the one aspect of the case that is known, the fact that nine people died horrifically. They deserve to have their story seriously investigated and told, not least because some of them still have surviving relatives. This "documentary" craps nonsense all over the actual story. 

Would it have been that much more expensive to mount a serious investigation? 

I have an MS in Psychology, and I wrote several position papers on the tendency to need to fill in gaps in stories. In the absence of evidence, humans have a hard time accepting that they may not ever know all of a story. Consequently, we fill in gaps. Used to be fairies and goblins, now it's UFOs and Bigfoot. That's my theory anyway. Doesn't mean there isn't a real world basis for both though, just makes more "false positives" occur. 
We thank Todd for sharing his thoughts with us… elsewhere, in an analysis that appeared at Examiner.com, Jeffery Meldrum of the Bigfoot Field Researcher's Organization was asked about the real possibility that a "Russian Yeti" might have been involved.
"Bigfoot Field Researchers Organization (BFRO) curator, Dr. Jeffrey Meldrum, appears in "Russian Yeti," so HitFix asked him about the possibility of the creature playing a part in the Dyatlov Pass incident. "Many, many hypotheses about what transpired and what happened to these people exist," he said. "Some have hung the yeti theory on the presence of footprints and that, when you look at the cameras, they found this single shot of a ghostly figure emerging from the treeline."

"Meldrum was more interested in talking about the temperament of the yeti. "There's been a lot of discussion about whether any of these wild men figures, if indeed they exist, whether they pose a threat to humans," he said. Meldrum pointed out that gorillas used to be viewed as monsters, but now they're seen as gentle giants that are victims of deforestation. It's almost impossible to find accounts of gorillas killing humans even though they're certainly capable of it."
Sadly, these themes were less prevalent in Discovery's recent feature.
Our friend Jim Boyd of the International Fortean Organization (INFO) was more blunt when he shared the following this morning:
"I think this is a fake… (the Dyaltov Pass Incident) should not be subject to this crap."
Sadly, it seems that Discovery has once again placed sensationalism and ratings over any quest for real data and hard facts, even in a case so disturbing as that of the Dyatlov Pass incident. But then again, it is television… what more should we really expect?
What are your thoughts? Share your comments below, or consider linking this article via the social media buttons below.
by