Welcome to THE GRALIEN REPORT, your source for the latest news in science, unexplained phenomena, history, sci-fi, and other compelling news from around the world. We attempt to explore the mysteries of our existence by relying on scientific knowledge, and without catering to unfair or cynical criticism.
Micah Hanks is a writer, researcher, podcaster, lecturer and radio personality whose work addresses a variety of areas, including history, politics, scientific theories and unexplained phenomena. Open minded, but skeptical in his approach, his research has examined a broad variety of subjects over the years, incorporating interest in scientific anomalies, cultural studies, psychology, sci-fi and pop culture, government secrecy, and the prospects of our technological future as a species as influenced by science.
He is author of several books, including his most recent work, The Ghost Rockets, as well as his 2011 release Magic, Mysticism and the Molecule: The Search for Sentient Intelligence from Other Worlds. In 2012, his book The UFO Singularity explored themes that incorporated futurism and technology–and at times skeptically–into an analysis of UFO phenomenon. Hanks has served as a consulting editor and columnist for FATE Magazine, and he is a staff blogger for Mysterious Universe. He has written for a variety of print publications including New Dawn, and has appeared on TV and radio programs that include Coast to Coast AM and Beyond Belief with George Noory, Whitley Strieber's Dreamland, National Geographic's Paranatural, History Channel's Guts and Bolts, CNN Radio, and many others. His weekly Gralien Report Podcast is available at www.gralienreport.com (get the XML RSS feed HERE), in addition to a news and current events podcast, Middle Theory, available at www.middletheory.com.
Additional details about Micah and his work can be found at www.micahhanks.com, including information about his music, books and writing projects. Hanks lives in the heart of Appalachia near Asheville, North Carolina. If you have questions, news tips or stories you'd like to share, you can email Micah directly at info@micahhanks.com.
Follow Micah on Twitter: @MicahHanks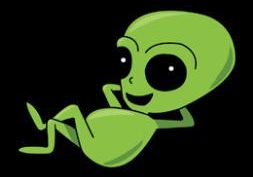 And finally, the site wouldn't be what it is today without our long-standing mascot, the Gralien. From a far off land known as Arcturi along the Gallifreyan nebula, the Gralien is the man thing behind the scenes, often falling asleep in closets, bathtubs, and other odd places throughout the bunker bearing his name. The Gralien possess his own rare form of brilliance, and in his spare time, often creates light-up Christmas ornaments with parts retrieved from old transistor televisions.
Follow the Gralien on Twitter: @GralienReport