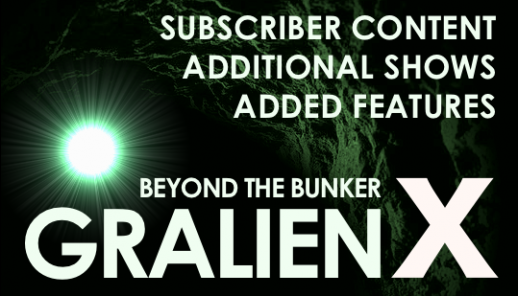 Greetings everyone, Micah here!  I'm proud to say we're coming up on the anniversary of the launch of our Gralien X subscriber area, which we made public last March; just under a year ago. Up until that time, my brother Caleb and I have worked hard to bring unique content, stories, and even original art and music together into a single podcast that makes the study of our world's mysteries one of the most enjoyable listening experiences around.
A lot of work went into making it happen, and by doing so, we have not only gone through a process of broadening our own horizons with regard to podcasting and the "New Media" revolution, but we've also managed to become instrumental in helping friends of ours in the podcasting community to do the same. For instance, our pals at Expanded Perspectives come to mind, who we helped launch a subscriber area for their site in the summer of 2014; The Gralien Report is also working closely with our friends at the KGRA Radio Network in developing new ways they can bring their content to the world using the podcasting medium, and broaden their (already impressive) listener base.
That said, February 2015 has been a great month to be a Gralien X Subscriber. In addition to our regular weekly "additional edition", The Gralien X Podcast featuring cohost Chris Heyes, "The Zombie Milkman", this month on Gralien Enigmas we round out a year's worth of episodes with a look back at the strange reports of ghostly encounters following the crash of Eastern Airlines Flight 401 in December of 1972.
But along with these shows, we've also launched yet another special monthly feature: our new Crypto X podcast that will focus exclusively on cryptozoology, and how scientific study can be applied to purported mystery animal species like Bigfoot, lake monsters, and other lesser known "cryptids". Joining me on this show is Dakota Waddell, who is new to the Gralien Gang, but a long time friend and associate, as well as researcher into the less-credulous among the annals of cryptid phenomena. Waddell is presently pursuing his masters degree in History, but with a background in anthropology and lab science, we're sure he will lend a uniquely critical perspective to the serious study of mystery creatures.
Signing up is easy: you can begin your subscription to Gralien X by clicking here.
And keep in mind, once you sign up for Gralien X you will receive your own personalized RSS feed that will pipe all of this content right into iTunes for you… along with the regular weekly Gralien Report Podcast. In other words, all this content from the Gralien Report, and its colorful cast of characters and correspondents, will now be coming to your Smartphone or other device on a single stream of podcast excellence, and now several times a week; that's roughly 150% more content every month, and all for just $7.
Or, if you really like the sound of what you'll be getting, sign up for an entire year, and get one month free! 
Go beyond the Bunker… sign up for Gralien X today.
We're pleased to be offering more and more great content over time, and it's no exaggeration when I say that the more we make available to you, our listeners, the more enjoyment we get out of what we're doing just as well.
So check out Gralien X, and see what the rest of your friends who have made their way down to the bunker recently have been talking about.
Finally, a shout-out and quick "thank you" to Matthew Oakley (the Gralien Reverend), Tyler Pittman (the Dark Cardinal), Jeremy London (Mr. Nasty), Dick Oakley (The Man With the Pipes) Father Hanks (not Sean Connery), RPJ (Amigo!), Race Hobbs (hbs), and all the other fine folks who have become a part of the Gralien family over time. You're all one in a (Urania) million(s).






by